Professional Development courses for Texas Realtors


Hi, my name's Ben Strube. I've worked 8 years in mortgage lending, as a Banker and now as a Mortgage Broker owner. I created my 7 hour CE curriculum in 2021, obtained TREC approval to offer it for CE credit, and later obtained my Real Estate license as well (working with Fathom Realty in DFW).

I hope my course helps you feel more confident explaining some of the basic mortgage concepts to your buyers. After taking my course, I hope you can share these concepts with your buyers and set yourself apart from your competition. In my experience, less than 5% of Realtors truly understand this material..... so you will gain something valuable in my course, that your buyers will recognize as unique.

After reviewing the 30 hour Real Estate Finance class I know you took, I made a list of the mortgage concepts I think every agent needs to know that wasn't taught to you when you got your license.

Going through the list of mortgage questions I've answered over the years, from agents I work with who have 10 years of experience and agents with very little, I incorporated these answers and concepts into the course.

This course is intended for agents who are at any level in their career. Agents with 10 years of experience will gain something from this.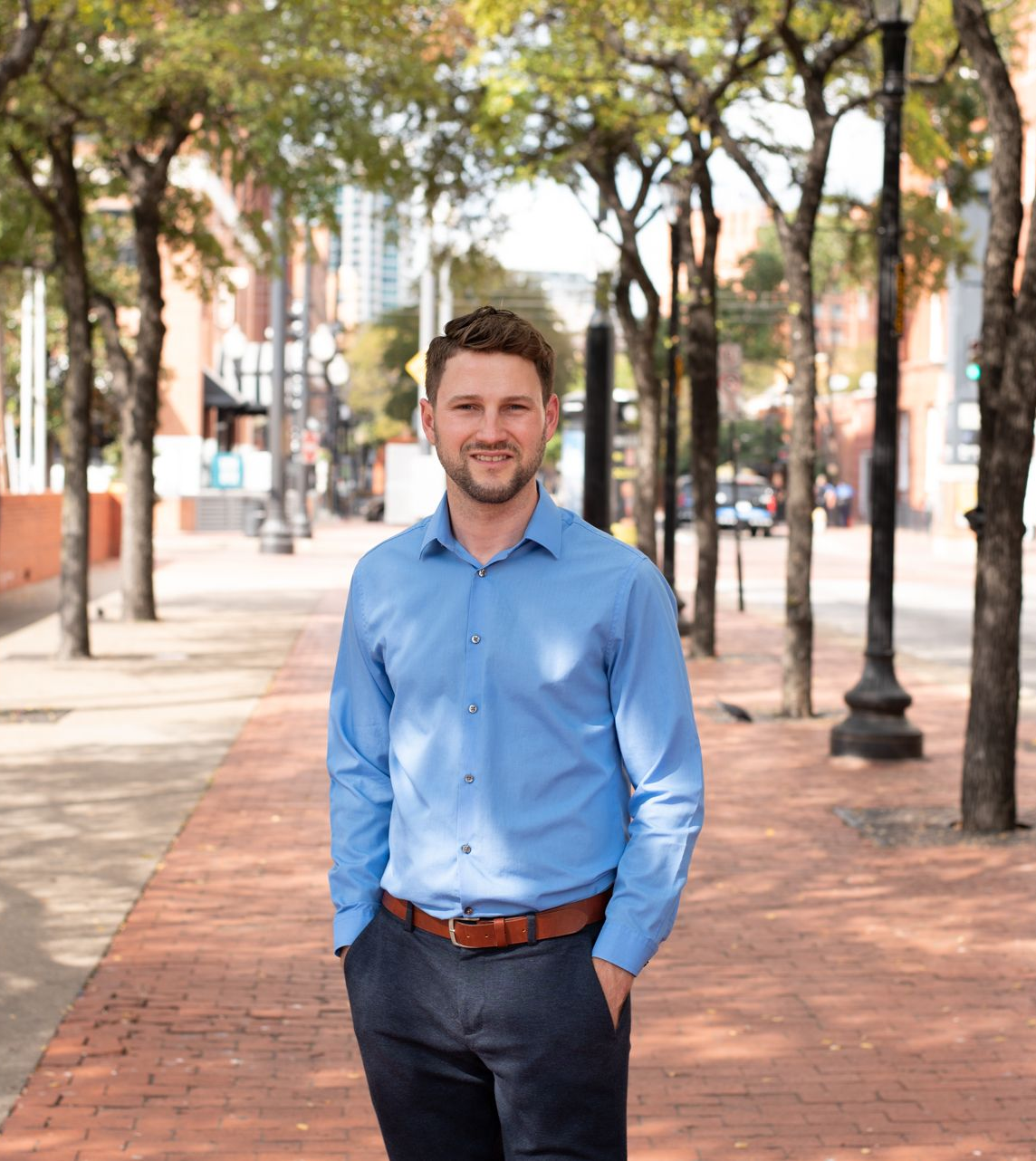 Start for Free
Start our Professional Development course today for free.
No credit card required to start Unit 1.
Have more than 10 agents on your team? Our $80 course can be $40 per agent for teams. Ask us about discounted pricing
for your entire real estate team.

As of January 2023, we no longer offer CE credits posted to TREC. This is now a Professional Development course only.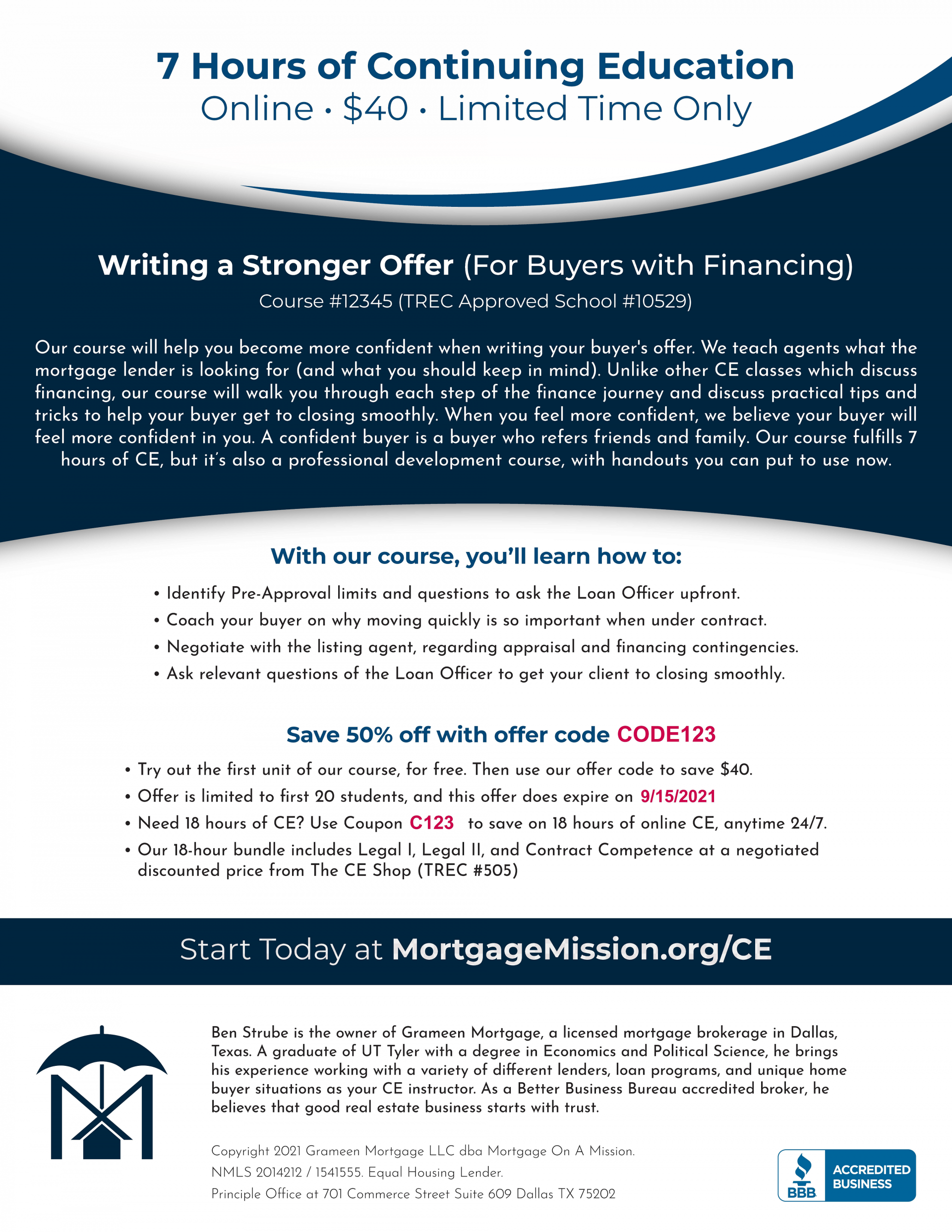 Frequently Asked Questions
What if I start my CE class with Mortgage On A Mission and I don't like it? Can I request a refund?


Yes, we provide a full refund when you make the request within 7 days of purchase of our 7 hour CE and when you have not yet fully completed Unit 1. You may review Unit 1 prior to purchasing our course. After you purchase our class, if you change your mind, just email us within 7 days, and be sure to not fully complete Unit 1, and we will refund your purchase. If you have purchased the 18 hour CE, which includes our 7 hour class, our refund will be for the full amount you paid, minus $70.


I want to finish my CE as quickly as possible. What should I know about TREC requirements?


TREC requires that you complete no more than 12 hours of CE per day, meaning that to renew your license, you'll need to take at least 2 days to complete 18 hours of CE. We recommend starting your CE by taking our 7-hour course, and taking either 1 or 2 days to complete this course. Next, take 1 or 2 days to take your Legal I, Legal II, and Contracts courses (which you can do for FREE, with our voucher for use with The CE Shop).


When will my CE credit be posted to TREC to show that I've completed my hours?


TREC requires that CE providers post CE credits within 10 days of course completion. For this reason, we recommend completing all of your CE at least 2 weeks prior to your license expiration date. Our policy is to post CE credits weekly, normally on Tuesday or Wednesday at noon. In all cases, we will post your CE credit within 10 calendar days of course completion. While we offer you access to courses from The CE Shop, we are not responsible for posting their CE credits to TREC. The CE Shop has
their own Terms and Conditions, which you can review here.
I still have questions about my CE and license renewal. Where can I go to learn more?


I want to buy all 18 hours of CE from you. When will I receive my voucher to redeem with The CE Shop so that my cost with them is $0 for Legal I, Legal II, and Contracts?


After you pay for our 18 hour CE package, go ahead and complete Unit 1 of our 7-hour CE class. After you complete Unit 1, we will email you a unique
Promo Code
that you will use at The CE Shop. This code will change the price from $107 to $0 for Legal I, Legal II, and Contract Competence in Texas (courses #37796, #37797, and #40002).
We've negotiated better pricing on your behalf
, and the cost of these classes from The CE Shop is included in our 18-hour CE course bundle.
Created with